Frequently Asked Questions
Are your websites secure?
Your personal information is just that and we keep it private. At Burkes Outlet, we are committed to ensuring your privacy as a customer. We do not sell or exchange names, or any other information about our customers, with any outside parties - period! As a visitor to burkesoutlet.com, our website automatically recognizes your Internet Service Provider, but you cannot be identified as an individual.
Click here for complete information on Privacy & Security.
What is your policy on returns?
At Burkes Outlet we want our customers to be satisfied with their purchases. If for any reason you are not completely satisfied with your purchase, you can simply return it to any Burkes Outlet location.
See our Return Policy page for more information.
Within 30 days of purchase with receipt = method of payment.
After 30 days of purchase with receipt = in store credit.
No receipt with or without tags on merchandise = merchandise certificate issued at the current value of merchandise.
10 day waiting period for cash back on purchases made with a check.
You may also exchange merchandise for something else in the store.
Sales are final on all clearance marked down 70 off original price.
What payment options do customers have?
Burkes Outlet Stores accept cash, check, Burkes Outlet Credit Card, Bealls Outlet Credit Card, PayPal, Visa, MasterCard, Discover and American Express. The Bealls Florida Credit Card is accepted in the state of Florida only.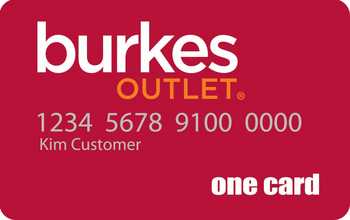 Click here to apply, make a payment or for more information
on Burkes Outlet ONE Credit Card.
Where are your stores located and when are they open?
Burkes Outlet has stores in South Carolina, North Carolina, Virginia, West Virginia, Tennessee, Kentucky, Alabama, Mississippi, Louisiana, Arkansas, Texas, New Mexico and Nevada. Visit our store locator to find a store near you. Please contact the store for hours of operation.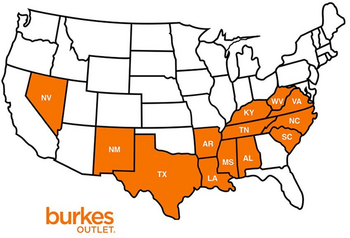 Click here to learn more about Burkes Outlet & the Bealls family of stores.
Questions about your Order?
Will I be charged sales tax online?
If your shipping address is located within one of the states where Burke's is registered to collect tax, sales tax will be automatically added in accordance with individual state regulations. Burke's currently charges tax in the following states: AL, AR, AZ, CA, FL, GA, KY, LA, MS, NC, NM, SC, TN, TX, VA, & WV
While Burke's does not charge sales tax in every state you, as the purchaser, may have an obligation to file a sales or use tax return. Please see below for more information:
What about opportunities for employment?
How can I get information on what's happening at Burkes Outlet?
Sign up for our emails and each week you'll receive an email with the latest on new merchandise arrivals, new store openings and more! Subscribe at the bottom of any page on our site.
How do I unsubscribe from your email service?
Do you have any special shopping discounts?
Yes, we offer a loyalty program called MORE rewards. Learn more.
Live Chat
Monday - Friday 9:00am - 6:00pm EST
Saturday 9:00 am - 5:00pm EST
Sunday 10:00am - 5:00pm EST
Start Live Chat
Or Call Toll Free:
1-800-683-8655
Monday - Saturday 9:00am - 5:00pm (Eastern)
Sunday 10:00am - 5:00pm (Eastern)
Customer Care Center
P.O. Box 25207
Bradenton, FL, 34206-5207